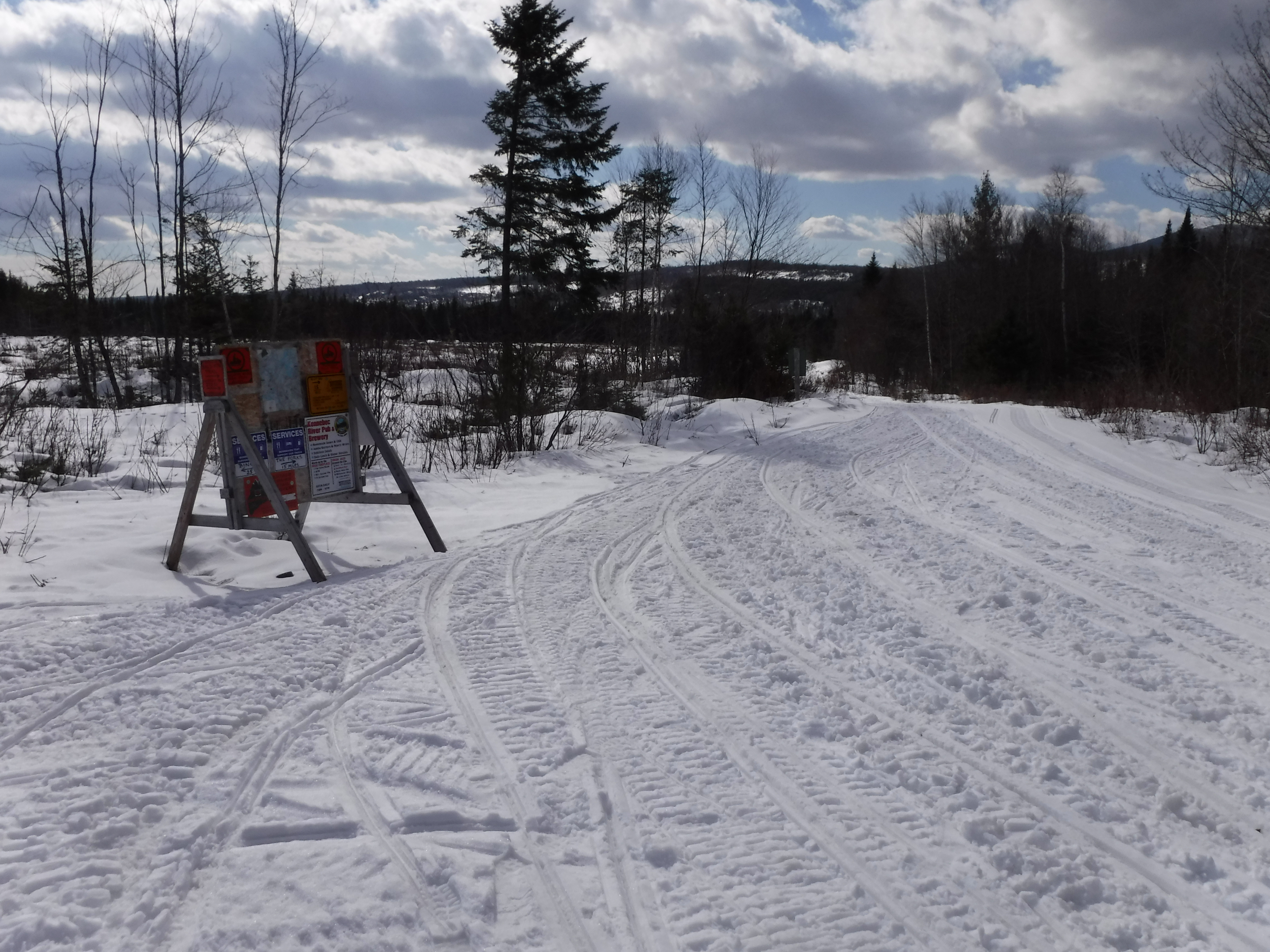 Went for a ride today from the shop north up ITS 87 and found thin trails and several bare spots though the groomer had been through. Once turning right 8mi outside of town and heading back to Rt 16 and the start of the Wind Farm trail I found great coverage and conditions. This continued on the top of the Wind Farm thanks to last nights 4" snow storm, but today and the next 2 days of 40˚F weather has me concerned for trails beyond this upcoming weekend for our rider appreciation weekend.
From the top of the Wind Farm past Austin Pond and into the Northern Outdoors trail system the trails were in fantastic shape though conditions are thinning. I took the Bald Mtn trail which was in great shape to the gate 3mi before the Shirley Tote Rd where the old Breakneck Ridge connector use to go through 3 or 4 years ago. Decided to take a trip down memory lane and found lots of snow on the old connector. This stretch had not been groomed all year but was in pretty good shape and had 2' plus of snow.
Once getting over to the Blanchard club area that had been being pipe dragged this season from the CC trail area back to the Breakneck Ridge trail I found thinner conditions but the trails were flat a covered nicely all the way back to the Wind Farm trail.
On my way back from the Wind Farm trail I took the Sunshine trail connector that links back to ITS 84 on the Mahoney Hill Rd at the major intersection, then a right on ITS 84 west and followed it all the way to the ITS 87 rail bed and back to the shop. This was certainly the best way in and out of town.
I have a feeling trails will be a little icy this weekend, so use extra caution in the corners. Hope to see you March 10th and 11th for our 1st Annual Rider Appreciation Weekend!