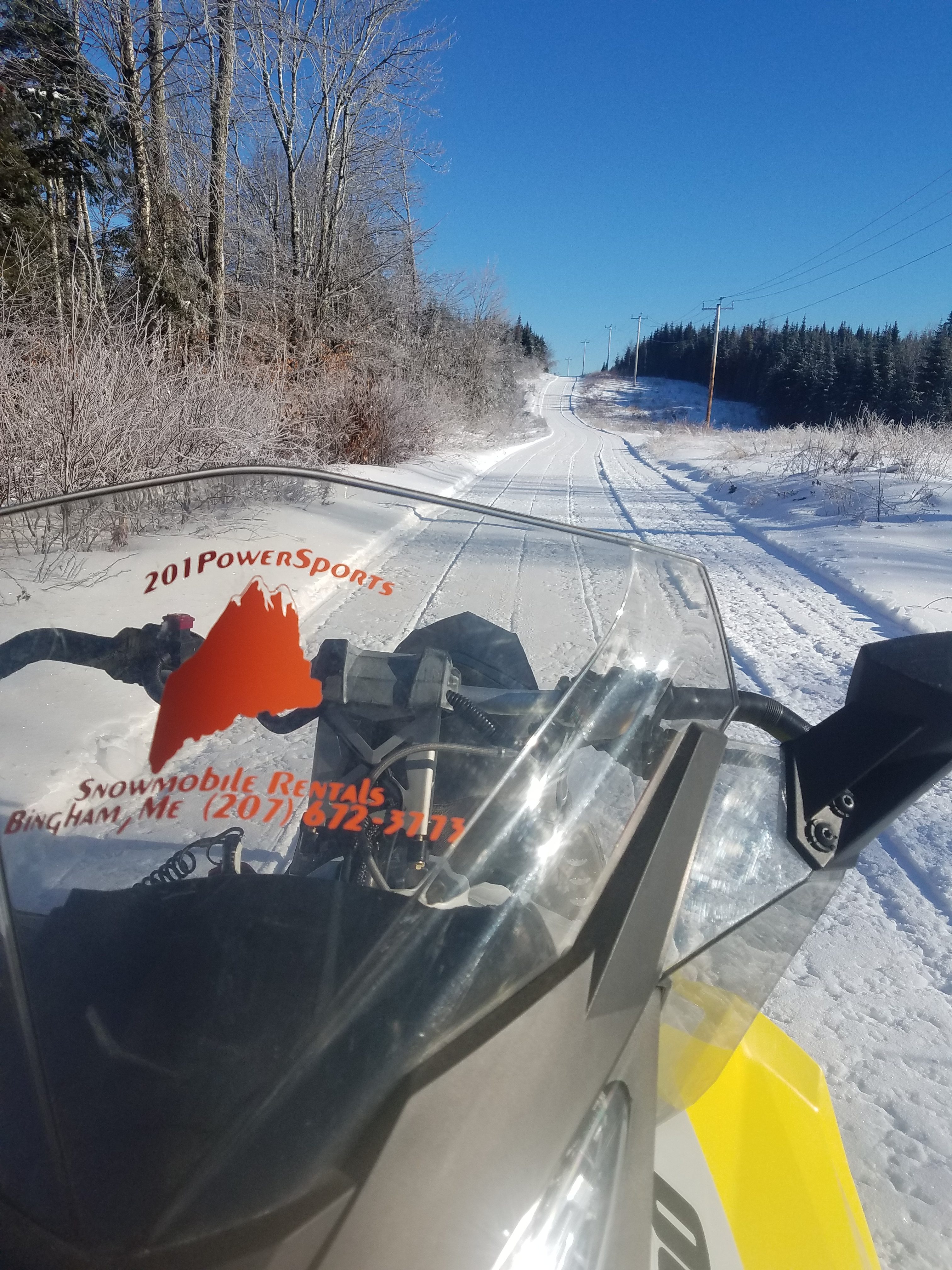 This is looking like a great weekend for the trails! If you were here last weekend, you wanna come back this weekend because the trails have gotten even better.
We received 3″-4″ of fresh snow on Tuesday the 23rd followed by sleet and freezing rain before switching over to rain, which we got a lot this of this storm. As a result, the snow settled to between 2″ and 2.5″ of wet pasty snow. Thank you to all of those of you how stayed off the trails until today. Groomers were out last night from Bingham, Maine to Jackman, Maine and all looked excellent.
After going for a short loop this morning up ITS 87 north from the shop and looping around the Town Line Rd (which is still not being plowed this season), past the Wind Mill trail intersection to the Sunshine trail back to ITS 84, and then back to the shop via the ITS 87 Bingham/Solon railbed, I am happy to say the conditions are fantastic! Yes, for some we could still use 6″ to 8″ more snow to make it "PERFECT," but relatively speaking the trails are there considering the winter we have been dealt thus far. There is still the occasional 3 to 4 inch rock cresting the surface of the trail to be aware of, but far few and far between and should also diminish outside of any towns.
ITS 87 north in its thinnest spot were covered and flat with no bare spots, and most ice bars covered up. I did not bother traveling further north from 10mi out at the 2nd intersection leading you back to the Town Line Rd when taking a right. This section is typically in the worst shape but should fair OK through the busy weekend.
Wind Mill trail has yet to be groomed, but I anticipate that 10hr project being completed tonight, as last night was the first night out since the most recent storm.
ITS 84 is groomed an in excellent shape with very good coverage through its entirety to the pole line at the end of Mahoney Hill Rd.
Both club trails have also been groomed, and have excellent coverage. These may become good alternatives in and out of town as the ITS 87 hillside see's more and more traffic throughout this busy weekend.
Other trail news, we believe that ITS 86 on the Shirley Rd connecting the Forks and Greenville has been reopened. This means the opportunity now for a loop through the Wind Mill trail to the Bald Mountain trail, where you could then go to Greenville and take ITS 85 to the Breakneck Ridge trail loop, or head into the Forks for a shorter ride returning on ITS 87 south and never seeing the same section of trail!
Folks its going to be a very busy weekend with a lot of traffic on the trails due the Reciprocal Weekend. Please be extra cautious when riding this weekend. Brake checking into corners and hammering the throttle coming out of them is only going to make things worse. This will require riders to be even more cautious later in the day and weekend, and will hurt us more for the remainder of the season.
Be safe, ride right, join a club or make a donation to help with grooming cost, and we will see you this weekend!